#MyCoHealthReview – Air Fryer Sarki vs Healthy Choice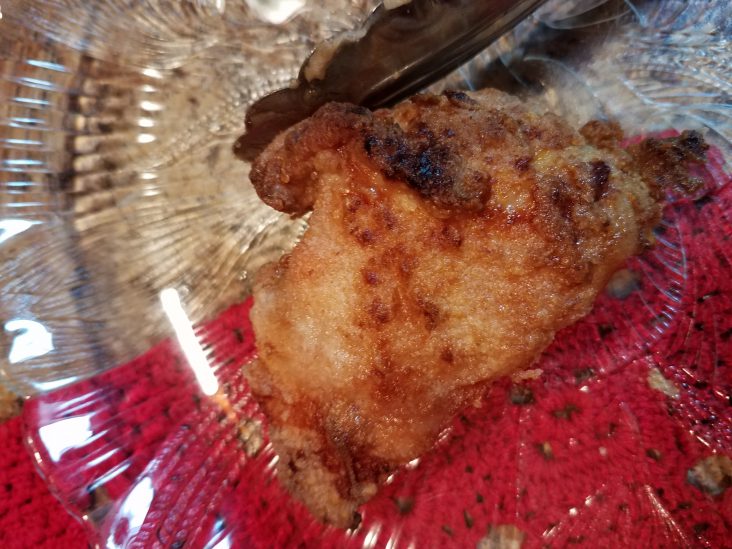 <a href="https://www.tomoson.com?code=TOP395b22f7a35da44e36909483bb922dee" rel="nofollow" style="display: none;"></a>
Today's featured #MyCoHealthReview is all about air fryer / air oven / convection oven! You may be saying "MyCo, what's the hype with these things? Why would I want an air fryer if I already have an oven?" I'll explain a bit more about the benefits and why I am so happy that I purchased it!
Please refer to the video to get a better idea of what the package consists of and how to set up and use it.
Featured Article
Sarki Product Features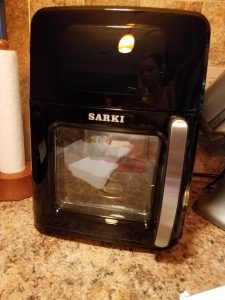 Contents of package

1 Air Oven
1 Drip tray
1 Baking rake
1 Baking pan
1 Stirring blade
1 Rotisserie rack
1 Cooking glove
1 set of instructions
The Sarki is XL and holds up to a 12QT (includes headroom) / 6.3Qt (cooking space) – The family sized air fryer can easily hold up a whole chicken.
● It features RAPID AIR CIRCULATING TECH & AUTO-STIR FUNCTION – Rapid hot air circulating system and removable auto stirring blade, allowing your food to cook in all directions by circulating the air evenly. perfect cooking, preserve food nutrients, ensuring your favorite foods hot n crispy, cooking healthy food for the oldest to the youngest.
● A large transparent cooking window FOR EASY VIEWING with working light inside which allows you to monitor cooking progress at any time without opening the door.
● 12 PRE-SET PROGRAMS & DIGITAL TOUCH SCREEN – Simply adjust the temperature and the timer for carefree cooking. Intuitive buttons with LED display make it super simple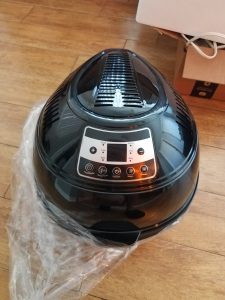 Healthy Choice Product Features
1 Air Oven
1 Baking rake
1 Baking pan
1 Rotisserie stick 2 clamps
1 Rotisserie cage

1 set of instructions
Here's the scoop Sarki vs Healthy Choice
Though I don't have too much experience using an air fryer, it's my opinion that if you can cook it in an oven, you can cook it in an air fryer; I know I'll be kicking myself for writing this but hey until I learn better I'm going with it. It seems that regardless of which air fryer /air oven that you use, there will be slight differences than the experience of cooking in an oven.
The texture can/may be different
The flavor may change slightly
The cook time and temperature will need to be adjusted
I've tested 2 things in each air fryer/air oven. So far I've made french fries, chicken drummettes, biscuits, and fried chicken thighs.
The Healthy Choice product takes up a lot of space and is a bit awkward, the controls are hard to use, it loads from the top making it hard to use and the cage is very hard to clean.

I selected chicken drummettes and french fries to test in this fryer and let's just say I was not happy enough to take any pictures, though we did eat them both. I opted to make fresh french fries and put just a tiny bit of oil and salt on them before putting them into the rotisserie cage. After 20 min they were browned very lightly. I took them out and placed them on the baking rake for another 5-10 minutes until they browned nicely and crisped up. I cooked the chicken for about 25 min and they did not get any crunch but did brown a bit. I did not flour the chicken.
The Sarki product takes up less space, is more visually appealing, the controls are easy to use, it loads from the front making it easy to put in and take out food and clean up is easy!

I opted to test biscuits and fried chicken thighs in this air oven because I wanted to test the "fried chicken theory", I was in the mood for biscuits and wanted to see what baking bread in a convection oven would be like.
The biscuits cooked in 8 minutes, nicely browned on the outside and perfectly done/moist on the inside. The chicken PASSED the fried chicken test, with flying colors! I did lightly flour this batch, not sure if it made a world of difference or not but it was a little messy to clean up. I forgot about the rapid air circulation technology it uses. The chicken was done in 20 min! Done, Done 🙂
Take a peek at the video review the quick scoop is edited for those who want a quick run down but if you want all the details, blips and tips check out the unedited version.
Benefits
Use little to no oil with the same crisp we love
Seals in the moisture/flavor
As opposed to a microwave this heats your food fast but without harmful radiation
Does not heat up your house
The ceramic filter helps to absorb cooking odors

Simple to use / Intuitive design

Easy cleanup
Portable
Does not require you to preheat
Auto shutoff

Hands down I'd choose the Sarki product and recommend it to anyone looking to purchase an air fryer / air oven / convection oven.   I got mine from Amazon https://www.amazon.com/Electric-Capacity-Programmable-Settings-Accessories/dp/B07HCD467L/ref=sr_1_1?ie=UTF8&qid=1537429333&sr=8-1&keywords=weltpacken+air+fryer. Though the other get's the job done, the experience isn't quite the same.
I'd love to hear about your experience, techniques, or tips. Feel free to comment!

<a href="https://www.tomoson.com?code=BOTTOM395b22f7a35da44e36909483bb922dee" rel="nofollow" style="display: none;"></a>