MyCo Recipe Remix – Curried Chickpea and Callaloo Bowl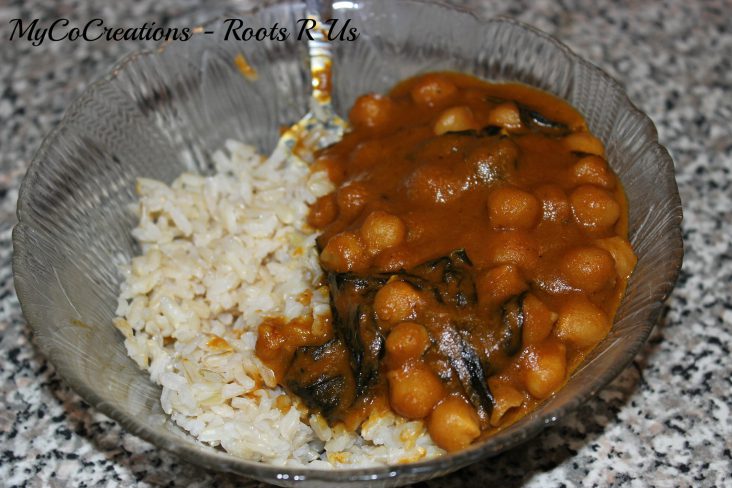 As many of you know I don't usually follow a recipe to a "T" and so true to my nature I co-created my own curried chickpea dish using this lovely recipe as my inspiration.
This is the MyCo Remixed version of the recipe found above.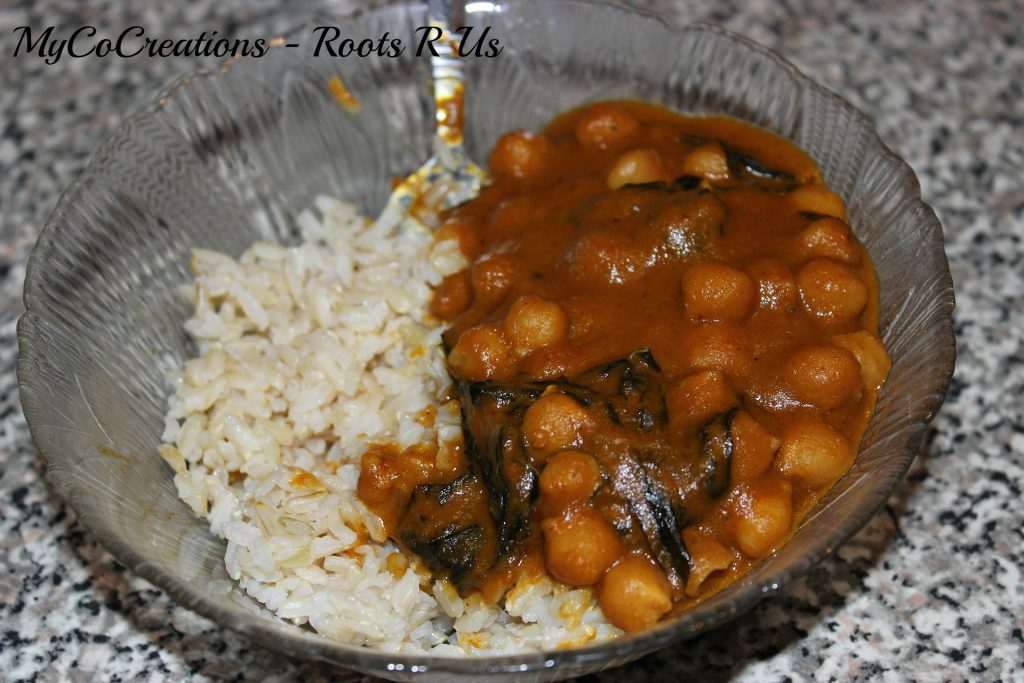 INGREDIENTS
1 oz tomato sauce (spicy)
1- 3 oz of water (this will evaporate as the beans are cooking) OMIT if using canned beans
3 tablespoon coconut oil
1 red onion, diced
5 cloves of garlic, diced
Himalayan sea salt to taste
2 – 3 tsp smoked sea salt
About 1 1/3 cups coconut milk
2 1/2 tsp powdered Irish sea moss
1/4 tsp paprika
1 1/2 tbs curry powder
1 1/4 cups presoaked chickpeas
1 cup fresh callaloo
dash of powdered lemongrass
PREPARATION
Presoak chickpeas for 8 – 24 hours prior.
Sauté the onion and garlic in the coconut oil until golden brown and season generously with salt and pepper, then set aside.
In a blender tomato sauce, onion and garlic, coconut milk, Irish sea moss, curry powder, smoked sea salt and smoked paprika until well combined. If needed, season some more with salt and/or pepper.

I blended up some dried lemongrass for tea prior and didn't clean out the lemongrass powder because I wanted it to be added to the mix 😉

Transfer to an oven safe pan/pot, add chickpeas and cook covered on medium-high heat for 90 minutes.
Place in preheated oven and bake in the oven at 390°F for about 30 minutes.  Make sure to stir occasionally and add little more water if it get's too thick.
After being in the oven for 15 minutes add callaloo and cook until chickpeas are fork tender.
NOTE: If you are using canned chickpeas you will only need to cook them for about 30 minutes in the oven and you can add your callaloo or spinach at any point.
Served with brown rice though I planned to use quinoa but apparently, we gobbled that all up and I didn't even remember 🙂
I'd also like to try this with roti, quinoa, wild rice and coco bread.  It was YUMMALICIOUS!
If you are in the process of transitioning to a healthier eating style but are stuck, like chuck and needs so tips check out MyCo's Kitchen Adventures recipe book, it is filled with delicious meals just like this one, plus I share lots of ways for you to remix them and create your own personalized versions!