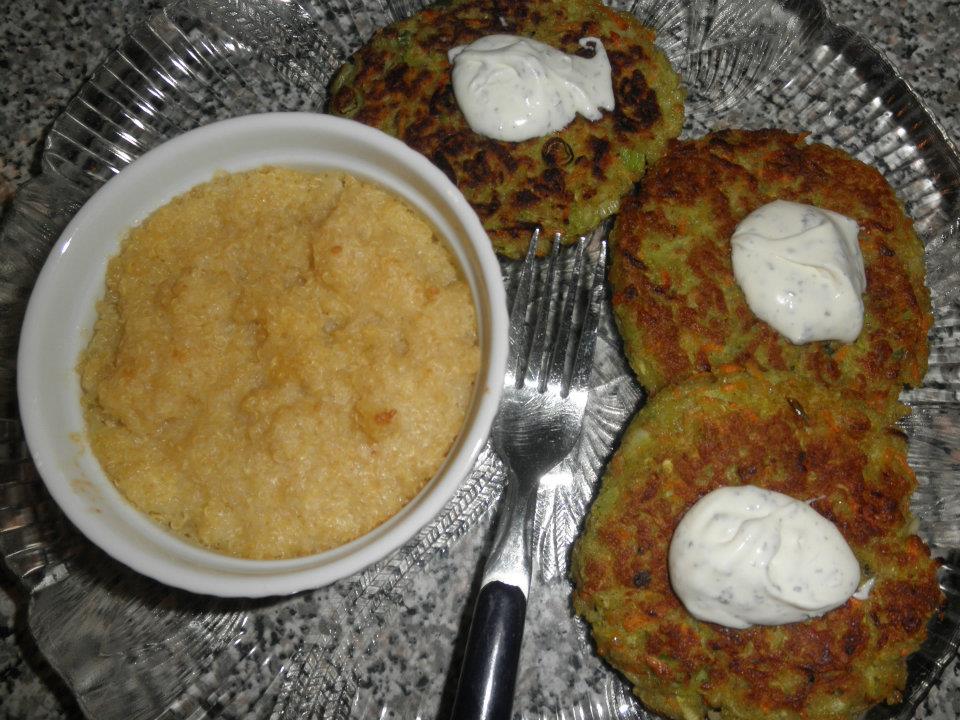 (Veggie Patties with a side of Cheesy Quinoa)
PATTY INGREDIENTS
3 Zucchini
2 Carrots
2 tbsp Moringa powder
1/4 Red Onion
4-5 Green onions
4-5 Garlic Cloves
1/2 cup Panko
1/2 cup Flour
2 eggs or egg substitute
TOPPINGÂ INGREDIENTS
crème fraîche 
Thai basil
Salt
Thai basil – to taste
Salt and Pepper to taste
Sunflower oil for pan frying
 
INSTRUCTIONS
Peel and grate zucchini and carrots. Â Grate/chop onions and garlic. Put these ingredients in a cheesecloth and squeeze to remove all the liquid. Â (Save it and add to a veggie smoothie or to make a salad dressing to add to some soup). If you don't do this step your patties will not stay together very well when they are cooking.
Next, finely chop green onions and add basil, salt and pepper, moringa or whatever seasonings you choose. Â Add flour and panko and hand mix together. Â Add eggs or egg substitute and mix well. Â If too wet add a little more flour and/or panko. Â Mixture should hold together well when you make it into a ball.
Add oil to pan on med-high heat. Â Create patties whatever size you want…I like minis 🙂 and fry each side until nicely browned. Â DO NOT DEEP FRY.
For the topping, simply add basil fresh or dried and salt to taste to the crème fraîche and mix together.