MyCoCreations Organic Cacao Tea Recipe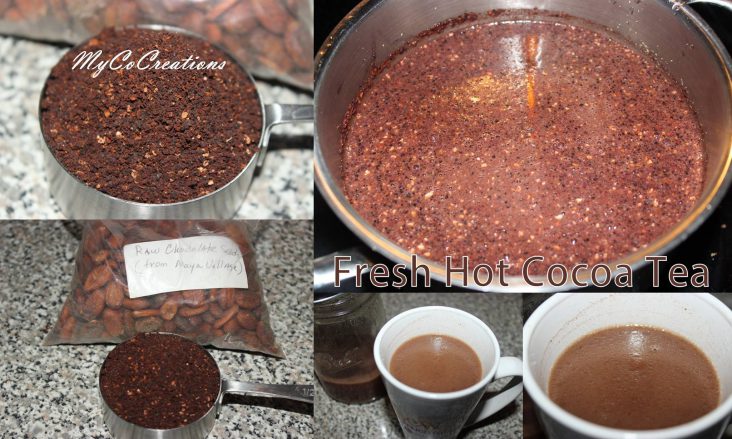 This delicious tea is surprisingly healthy!
A great replacement for coffee or just a great addition for anyone who loves chocolate!
INGREDIENTS:
1/2 cup grated/powdered cacao nibs/cacao beans OR
1/2 cup powdered raw cocoa
1 cinnamon stick
4 or 5 cups water
1/4 tsp grated nutmeg
1/2 tsp vanilla extract
1/2 cup organic coconut milk or nut milk of your choice
A pinch of Himalayan sea salt
Sugar to taste
INSTRUCTIONS:
Place the cocoa and cinnamon in a pot with the water.
Bring to a boil, then reduce heat and simmer, covered, for about 15 minutes.
Add nutmeg, vanilla, and milk to taste, along with a pinch of salt. Depending which milk you used, you may like to sweeten your tea with a little sugar.
Pour through a very fine strainer.
Serve hot.
You may need to stir your tea while you're drinking it because the oils in the chocolate and coconut milk will separate as it cools. Also, sip the tea carefully because of the oils on the surface, they stay hotter longer!
TIPS:  Sometimes I use my cardamom extract in this blend. 🙂 OH and my super awesome master herbalist teacher uses cayenne pepper in everything and using it in this blend is the perfect addition on a cold winter day!
[bctt tweet="Organic Cacao Tea is surprisingly healthy and is a great replacement for coffee." username="mycocreations"]!